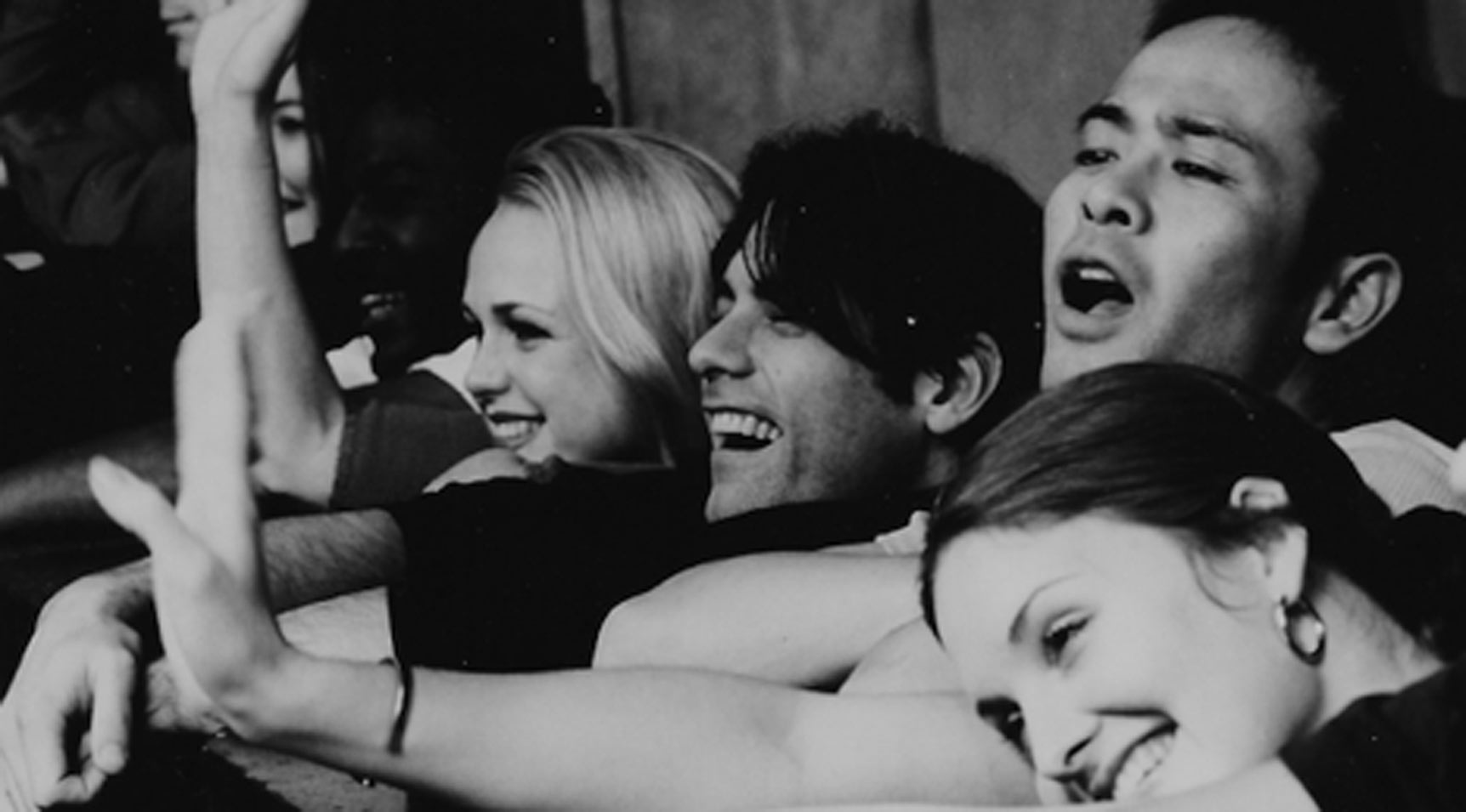 "Truly remarkable piece of theatre. Lia Sargent's creativity is just astonishing and her cast – young, exuberant, willing, talented people all, that put on a moving, funny, entertaining evening. It was a unique experience."
PRODUCTIONS
All of Lia's shows are accompanied by live musicians, including a percussionist, a guitarist, sound effects engineer, and an innovative lighting designer, which enhance and embellish the scenes and the experience for the viewing audience. The productions are based on original material with multilingual dialogue and are highly physical. The productions use minimal sets, giving the actor an opportunity to create anything from mountains, avalanches, oceans, and sinking ships – right down to the simplest of conventional rooms – spontaneous creativity knows no bounds. Ms. Sargent refuses to take full credit for her original theatre productions. She claims that the collaboration with her students is the backbone of the creation.
SIMULATION WITH A TWIST, at the Interact Theatre Company, was quoted by the City Council's Deputy of The City of Los Angeles;
"It's rare that one leaves the theatre with the feeling that one's life has been enhanced, but, my life was enhanced by the evening."
Other comments from the audience…
"It was a treat to have such an exciting evening of theater"
"What a concept!"
"Interesting, funny, strange, and wonderful."
"We only dream of being so multicultural"
"I find the method fascinating (and a valid) means of creating theatre. Clearly, Lia has attracted a very supportive and talented group of young artists to a new method."
"Visually, it was enchanting, profoundly moving, and beautifully choreographed."
The process by which we come together as artists with a common vision can be one of the most fulfilling and exciting experiences in life. To be part of a collaborative effort, to work as a team, to share a common goal, to build the same structure: this is ensemble theatre. The energy is contagious, the unity is power, the imagination is endless.
In 1995, The Stella Adler Academy asked me to teach actors how to move gracefully in a class they called "Movement for Actors." I used exercises I had learned over the years as a dancer, as a mime, as an actress, and as an entertainer. We had fun, the students enjoyed the exercises, but did they learn how to move as a character with dialogue and actions? Did they feel comfortable, appear natural, and behave honestly? Much to my disappointment, I learned that they had not. I saw that these actors, who learned and understood their lines, had no idea what to do with their bodies. Why? What was missing? These people are not normally awkward. Simply put, they placed themselves on stage in front of an audience instead of in the environment where the action takes place. The environment forces the actor to behave organically. It inspires actors to react and behave as they would in life, which in turn makes them feel comfortable and look natural. It supports the actor with his or her choices, and it pulls the audience in. The environment feeds the imagination.
– Lia Sargent
THE SHOWS
SWITCHING GEARS – A Rhythmic Interlude
1996 – Fast-paced, highly physical ensemble work that takes you on a wild ride of every place imaginable. Imagination is the key. One scene segues into the next. Like a magician, the master of ceremonies molds the stage into a different environment right before your eyes. 10 actors perform in 20 scenes.
BLACK AND WHITE LIVE
1997 – Six actors bring 32 photographs to life. Inspired by black and white photographs from such highly acclaimed magazines as Life, Time, Fortune Magazine, The Associated Press and Family of Man (circa 1955). By photographers such as Ruth Orkin, John Mulholland, Joe McNally, George Silk, William S. Allen, Eugene Smith, Sy Friedman, W.C Rauhauser and The Wild West Photos from the S.P. Stevens Collection.
QUOTES D'ENSEMBLE
1998 – Well known quotes inspire each scene in this highly creative and imaginative evening of theatre. From such greats as Thomas Jefferson, Samuel Butler, Leopold Stokowski, Eleanor Roosevelt, Colette, Charlotte Bronte, Amelia Earhart, Thomas Crum, Mark Twain, Gloria Vanderbilt, Sophia Loren and Mae West.
PATTERNS – Stage Activated and Motivated
1998 – Thirteen actors were encouraged to create a scene using only a specific pattern on a floor. Detailed and very exacting, the actors had to justify the movement along the pattern as designed. Character driven and infused with conflicts. Thirteen Patterns developed into 63 scenes. Six Americans, Three Italians, One Argentinean, One Dutchman, One Japanese and One Swede.
PIECES & PATTERNS – Stage Activated and Motivated
1999 – Three Floor Patterns, Three Stools, Three Steps, Two Benches, One Chair and One Table strategically placed, inspiring Seven Actors to create 21 scenes. One American, One Japanese, Two Italians, A Dutchman, and a German.
BLACK & WHITE LIVE – "Back by Popular Demand"
2000 – In this revived production Lia decided to add three distinct characters that would be essential to the set changes and would keep the audience always entertained and engaged in the work. Inspired by the highly acclaimed musical Stomp, she incorporated the syncopated beats of the percussionist with the down beats of the furniture and props, suggesting a subtle hint of what was to follow.
SIMULATION WITH A TWIST
2001 – Sixteen actors with one man as the Greek chorus. A Wall, A Floor Pattern, Two Words, A Quote, A Mountain or A Boat formed the bases of 36 Scenes. Spanish, Japanese, Opera, Musical Theatre Parody, The Tango and much more. With innovative lighting design and music and sounds from both human and electronic engineering, which enriches the story telling beyond the norm. Laughter, tears, and mystery.
REVERBERATIONS
2006 – Eight actors expanded their creativity influenced by A River, A Window, A Door, or Spoken Lyrics to a Popular Song. Accompanied and enriched by a Live Musician and Sound Effects that create worlds that reverberate off each other, bringing you an evening of endless thinking outside the box with 26 comedic and dramatic scenes.